8 September 2021, Singapore – APRW, one of Singapore's earliest and largest integrated communications agencies, and Nanyang Technological University's Wee Kim Wee School of Communication and Information (NTU WKWSCI) today announced the launch of APRW-NTU WKWSCI Student Development Fund.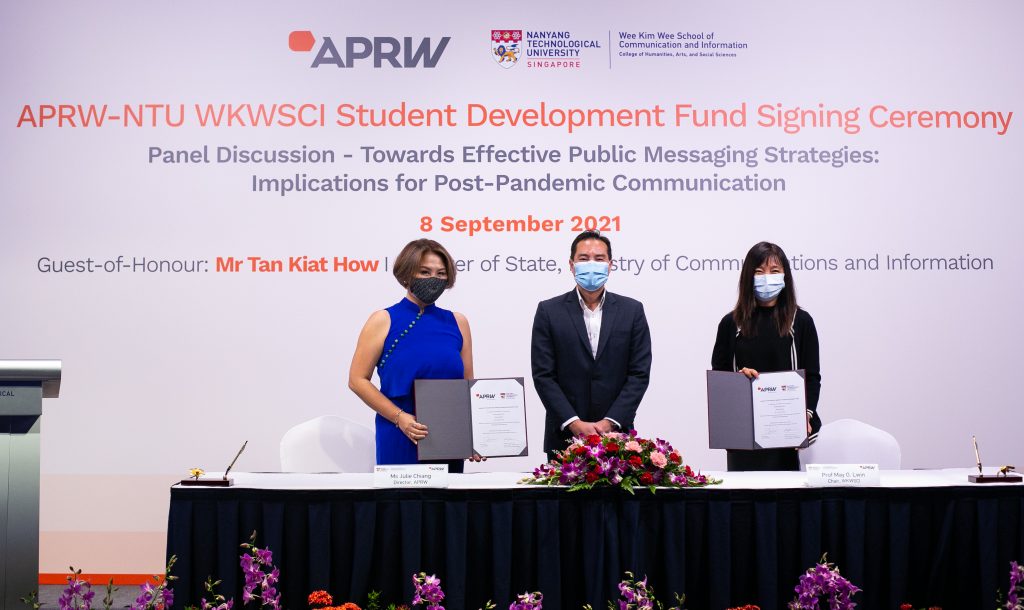 The Fund is aimed at nurturing the next generation of communication professionals by helping students fund their final-year projects, and to recognise and celebrate the best projects with the APRW Excellence Award. Guest-of-Honour, Mr Tan Kiat How, Minister of State, Ministry of Communications and Information & Ministry of National Development, witnessed the signing ceremony held at NTU campus today.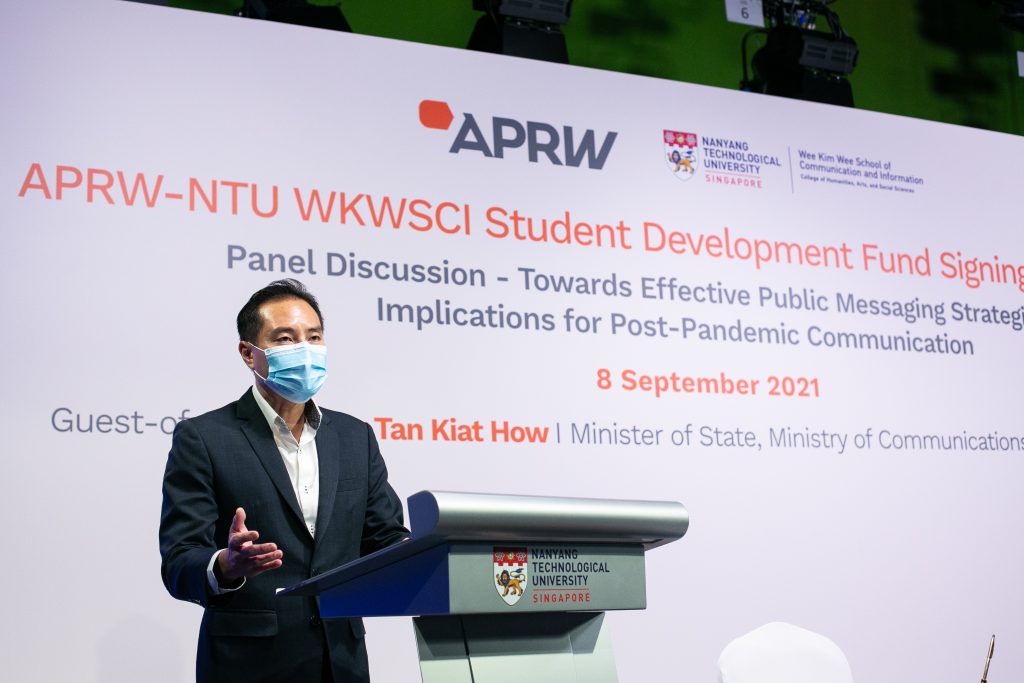 This marks the first collaboration between APRW and NTU WKWSCI as both parties work together towards the growth of the communication professionals in Singapore.
Commenting on the partnership, Ms Cho Pei Lin, Managing Director of APRW, said, "We are pleased to launch the APRW-NTU WKWSCI Student Development Fund as part of APRW's ongoing 25th anniversary milestone. We believe that the success of a company lies not just in our growth, but how we have a greater role as a homegrown company to leave a lasting legacy for the next generation. Together with the support of our clients, business partners and media friends, we want to contribute our part towards creating a shared future through this partnership with NTU WKWSCI."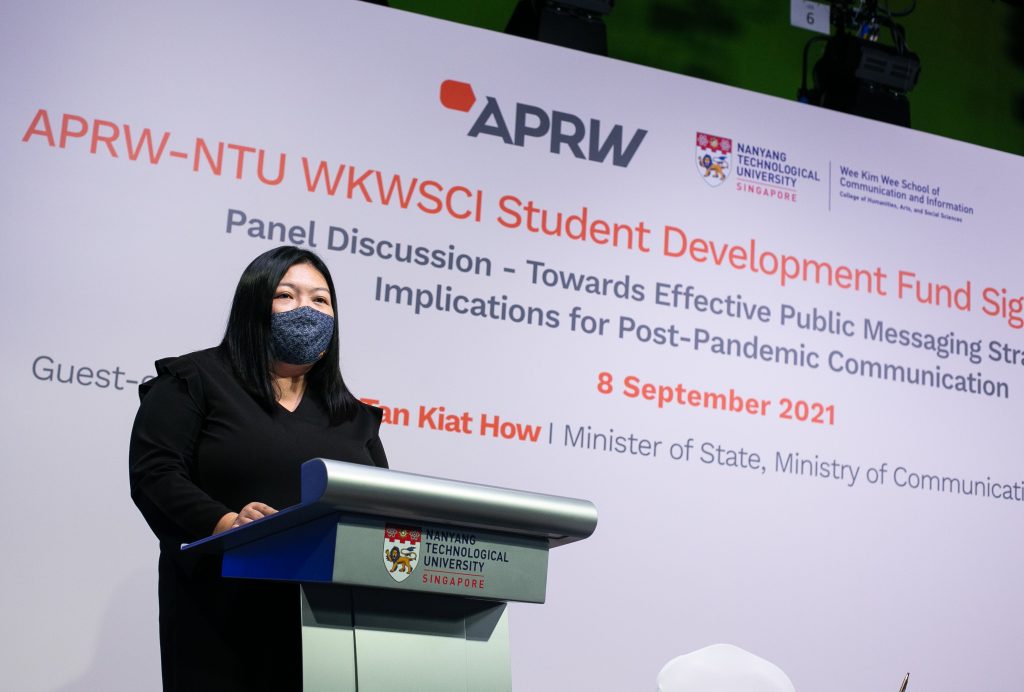 For over two decades, NTU WKWSCI has been a valuable stakeholder at the forefront of the industry as the first communication school in Singapore. To-date, the school has seen over 7,000 communications professionals graduate from its cohorts.
Professor May Lwin, Chair of Wee Kim Wee School of Communication and Information commented, "As part of its curriculum, NTU WKWSCI's Final-Year Project (FYP) aims to provide students with opportunities to apply the knowledge and abilities they have acquired at WKWSCI to real time societal issues. Our finalyear projects in various tracks like strategic campaigns, journalism, film and research have produced output that contributed to improving society on numerous fronts. This is therefore opportune that APRW's collaboration with WKWSCI will enable our final-year projects to progress even further."
To commemorate its 25th year meaningfully, APRW sought to give back to the community by partnering with NTU WKWSCI. Through this fund, APRW hopes to empower and enable students of NTU WKWSCI to be one step closer in achieving their dreams as communications professionals. APRW plans to raise S$160,000 for the APRW-NTU WKWSCI Student Development Fund and will be galvanising its community including clients and partners to contribute to this meaningful fund.
Additionally, APRW has commissioned one of its clients, local e-coffee company Hook Coffee, to create a signature blend called Brew Your Mind to support the fundraising efforts. 50 per cent of all proceeds from the sale of this coffee will go towards the APRW-NTU WKWSCI Student Development Fund.
To mark the launch of the fund, APRW and NTU WKWSCI jointly held a panel discussion titled "Towards Effective Public Messaging Strategies: Implications for Post Pandemic Communication". The panel highlighted key considerations for the communication of public health issues and research findings on the critical role of mainstream news media as public education tools to correct misinformation during public health crises.
Panelists include Ms Ginny-Ann Oh, Director, APRW, Professor May Lwin, Chair, WKWSCI, NTU, Mr Karl Mak, Co-Founder of SGAG and CEO of HEPMIL Media Group, and moderated by A/P Edson Tandoc Jr, Associate Chair (Research), WKWSCI, NTU.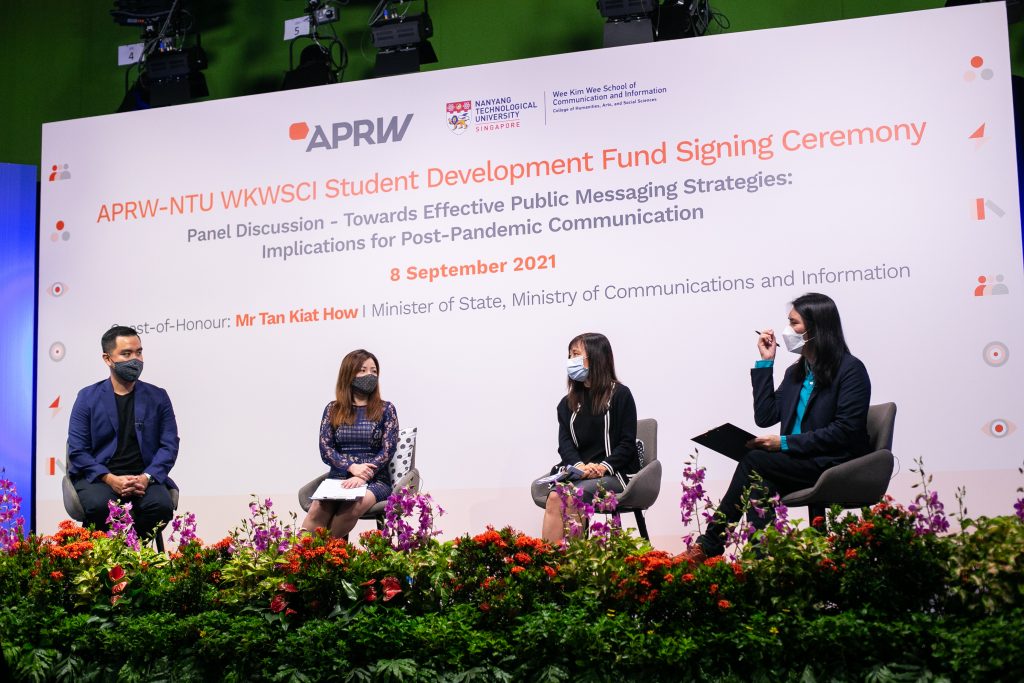 For more information and to make direct donations, you can access this link here. https://bbis.ntu.edu.sg/uao/APRW_Student_Development_Fund
About APRW
APRW (formerly known as Asia PR Werkz) is one of Singapore's earliest and largest independent integrated communications agencies focusing on public relations and digital marketing. Since 1996, the firm has grown exponentially and built a strong portfolio of clients across diverse areas like government, public affairs, consumer goods and services, education, hospitality, travel and tourism, startups, charities and non-profit, among many others.
The agency is uniquely led by a team of owners-directors who combine keen business acumen with a wealth of experience to design and deliver bespoke communications solutions and successful marketing campaigns for its clients across Asia Pacific. APRW is also an award-winning agency, clinching the title of "Agency of the Year" for Marketing Magazine's regional PR Awards 2019.
APRW is a member of global communications platform, IPREX, acting as the sole representative for the network in Southeast Asia. The firm opened its first overseas office in Indonesia in 2020.