APRW introduces a new director and team members to strengthen operations in Indonesia as part of its commitments in catering to the clients and market needs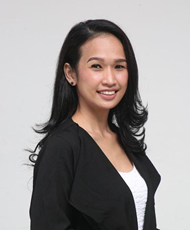 Singapore, 4 January 2022 – APRW, one of Singapore's earliest and largest integrated communications agencies, today announced the expansion of the local team in Indonesia, with the solid addition of a new Associate Director, Ms Debora Prescillia, along with some new team members. This addition follows the recent 25th anniversary of APRW, as well as its expansion to Indonesia in early 2020.
Ms Cho Pei Lin, Managing Director, APRW said, "This is part of our commitment to serve the Indonesian market. We believe our strong foothold in Singapore combined with the local expertise in the Indonesian market will play a vital role in unlocking the potential of the clients from a communications standpoint. Debora will focus on leading the operations in Indonesia, ensuring that the agency continues to provide strategic communication consultation, and to oversee the business development opportunities."
Apart from being a former journalist in Koran Jakarta and MNC Media Group, Debora also joins APRW with a long career journey of more than 10 years of corporate experience, including with Pertamina, McDonald's Indonesia, Eculine Indonesia, Pos Logistics Indonesia, MNC Asset Management and MNC Life Insurance. "I'm excited about leading the APRW Indonesia team and furthering the role that APRW plays in supporting and being a reliable communication partner for our clients in Indonesia. It is also important for us to build camaraderie with the team to have fun, grow and be fruitful in the work that we do and the projects entrusted to us by our clients," said Debora.
APRW Indonesia has and will continue to work closely with its counterpart in Singapore, overseen by Ms Anu Gupta, Director of APRW, to provide expertise and support to clients in the startup and technology industry.
The team has marked its success in supporting noteworthy clients for the past years, taking the lead in strategic communications initiatives and media relations.
About APRW   
APRW (formerly known as Asia PR Werkz) is one of Singapore's earliest and largest independent integrated communications agencies focusing on public relations and digital marketing. Since 1996, the firm has grown exponentially and built a strong portfolio of clients across diverse areas like government, public affairs, consumer goods and services, education, hospitality, travel and tourism, startups, charities and non-profit, among many others.
The agency is uniquely led by a team of owners-directors who combine keen business acumen with a wealth of experience to design and deliver bespoke communications solutions and successful marketing campaigns for its clients across Asia Pacific. APRW is also an award-winning agency, clinching the title of "Agency of the Year" for Marketing Magazine's regional PR Awards 2019. APRW is a member of global communications platform, IPREX, acting as the sole representative for the network in Southeast Asia.
Visit APRW at aprw.asia  
Media Contact: