APRW signs MOU with LSPR to nurture next generation of local communication professionals
APRW will support the partnership by offering guest lectures, internships and full-time career opportunities for LSPR students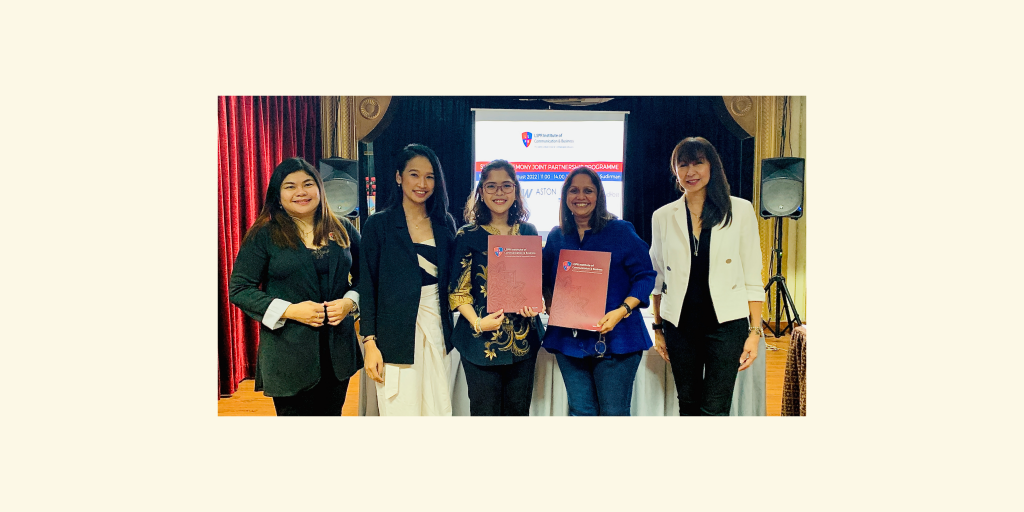 Jakarta, 25 August 2022 – APRW Pte Ltd (APRW), one of Singapore's oldest and largest integrated communications agency with its representative office in Jakarta, Indonesia, announced their partnership with Indonesia's premier Graduate School of Communication and Business, LSPR Institute of Communication & Business (LSPR). The partnership was established through a Memorandum of Understanding (MOU) signed by both parties, in a ceremony held yesterday at the LSPR Sudirman Campus in Jakarta.
As part of this partnership, APRW will conduct guest lectures for students of LSPR and participate in LSPR career fairs to offer internship and full-time career opportunities in APRW Indonesia operations. This marks the first collaboration between APRW and LSPR as both parties work together towards the growth of communication professionals in Indonesia.
Commenting on this partnership, Cho Pei Lin, Managing Director, APRW (Singapore and Indonesia) said, "We are pleased to collaborate at an industry level with a prestigious institute like LSPR in Indonesia. During our 26-year journey in Singapore, we have always nurtured the fresh talent coming out of universities, be it via programmes we offer like the Internship programme and Graduate Recruitment Programme (GRP). As we scale in Indonesia, and build our presence here, we wish to bring forth some of the best practices we have adopted in the industry over the years and provide the same opportunities to local Indonesian students. We are certain that the opportunity to work with a regional communications agency will be unique and exciting for the young talents."
With more than 20,000 alumni, and 6,536 active students, LSPR is committed to build and maintain good relationships with their community through initiatives like LSPR Alumni Awards and LSPR Careers & Employability Centre to ensure the continuous collaboration between academic realms and the industry practices.
"Being able to communicate effectively becomes a crucial ability for communication practitioners. Providing our students with access into the industry and gaining real life experiences is a big part of our curriculum. We also wish to tap on APRW's vast regional expertise and their firm foothold in Singapore, which we believe is an opportune gateway for our Indonesian students. We are very excited to partner with APRW", said Candy Hernandez, BSN, MA, FAPR, Director of International Relations and Communication office of LSPR
APRW established its presence in Indonesia in early 2020 under the support of Enterprise Singapore. The firm has been working with clients in industries across startups- ranging from healthtech, insure-tech, agri-tech, fintech to small and medium enterprises and corporates. The firm offers services ranging from strategic counseling, media relations, media training and investor communications.
APRW has recently worked with notable companies based in Indonesia, especially in the startup sector. The firm's unique positioning of having a foothold in Singapore and Indonesia, two of the most vibrant startup hubs in the region, enables it to offer investor communications to fast growing startups across these markets. Some of the notable startups APRW has recently inked a partnership with are: SwipeRx, leading Indonesian fintech player Mapan, launch of India's leading Accel-invested startup Credgenics.
About APRW
APRW is one of Singapore's earliest and largest independent integrated communications agencies focusing on public relations and digital marketing. Since 1996, the firm has grown exponentially and built a strong portfolio of clients across diverse areas like government, public affairs, consumer goods and services, education, hospitality, travel and tourism, startups, charities and non-profit, among many others.
The agency is uniquely led by a team of owners-directors who combine keen business acumen with a wealth of experience to design and deliver bespoke communications solutions and successful marketing campaigns for its clients across Asia Pacific. APRW is also an award-winning agency, clinching the title of "Agency of the Year" for Marketing Magazine's regional PR Awards 2019.
APRW is a member of global communications platform, IPREX, acting as the sole representative for the network in Southeast Asia. The firm opened its first overseas office in Indonesia in 2020.