One of Asia's first integrated communications agencies to build for the future with razor-sharp focus on staff development and workplace transformation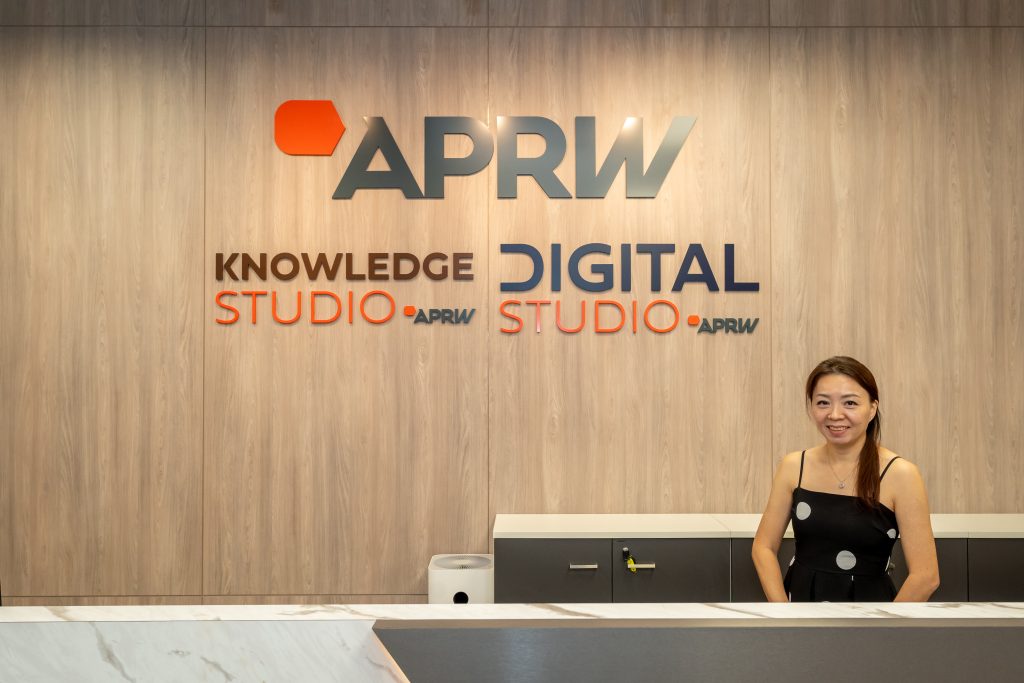 Singapore, 19 September 2022 – APRW Pte Ltd (APRW), one of Singapore's earliest and largest integrated communications agencies, unveiled the new face of its office today at 86A Amoy Street with Guest-of-Honour Ms Yeo Wan Ling, National Trades Union Congress (NTUC) Director for U SME and U Women and Family (U WAF), who presented the NTUC In Your Workplace (NIYW) certificates to APRW in achieving Better Workplace, Better Work and Better Worker.
Transforming for the future by Upscaling, Upskilling to Uplift and empower its employees, APRW is one of the first integrated communication agencies in Asia to adopt a workplace transformation that embodies a dynamic workplace and offers initiatives that encourage personal growth and career development – all in all to empower the employees today, to be ready for tomorrow.
Managing Director of APRW, Ms Cho Pei Lin enthused, "We are proud to be leading the industry by being one of the first integrated communications agencies in Asia to take dedicated steps to provide a conducive environment where the needs of our team members are met. In APRW, our people are our capital, and we recognise the need to invest strategically and prudently to empower and uplift our team members and achieve co-prosperity and greatness together. Beyond a professional career, we want to ensure that successful careers can be pursued at APRW, with avenues for growth."
Established on three fundamental pillars, APRW's workplace transformation focuses on empowering its employees by Upscaling, Upskilling and Uplifting them.
Upscaling: Building a motivated and inspiring workplace
APRW believes quality workspace designs can lead to a less stressful and more productive atmosphere. To meet the needs of the evolving industry and workforce, APRW's office underwent a facelift which maximises the use of space while tapping upon the unique features of the shophouse where APRW is housed. The refreshed office incorporates thoughtfully-designed workspaces and contemporary design elements, creating a warm and comfortable working environment for all ages. More communal spaces have also been introduced to support effective collaboration and encourage employee interactions to connect beyond work.
As part of NTUC's "Better Workplace" effort, APRW also worked with NTUC U WAF to introduce a wellness and lactation room, creating a supportive environment for nursing mothers while providing all employees with a cosy corner to respite and re-energise – a physical space to 'step away' from demands of the workday. It further serves to recognise APRW as a progressive employer.
Upskilling: Cultivating lifelong learners
APRW empowers staff through various initiatives to upskill and stay relevant in today's market.
Graduate Recruitment Programme (GRP) – A fast-track, mandatory six months programme where newly-joined employees (mostly fresh graduates) will learn the ropes of Public Relations or Digital Marketing and gain experience on a wide-spectrum of communication projects. Each director will develop and organise a bespoke training focusing on key topics of integrated communications.
Training benefits – Recognising the need to establish a competitive advantage, every staff at APRW is encouraged and entitled to select and attend training courses (up to a maximum of 20 hours) every year. APRW believes in the importance of upskilling to expand the staff's skill sets, ensure job-relevance and enhance competency to cultivate a well-rounded, cross-trained workforce.  for SMEs.
(New!) APRW Company Training Committee (CTC) – APRW is developing an Operation & Technology Roadmap (OTR) – with NTUC U SME's support to ensure its future readiness. The OTR will enable the CTC, comprising current and future leaders of APRW, to better chart its growth journey while ensuring that team members transform together for success by capitalising on the right drivers, products, services, and technologies.
Uplifting: Prioritising health and welfare, personal growth
APRW prides itself as a family-friendly workplace offering several benefits like Flexi-time, Flexi-work Arrangements and Fertility Health Checks for newly-wed employees that are helpful and supportive in cultivating a fulfilling work and family life balance.
The benefits are:
APRW Flexitime Scheme enables staff to start anytime between 8AM to 9.30AM, and complete their workday flexibly while fulfilling the required consecutive nine hours daily.
The implementation of APRW Flexible Work Arrangement where staff are given the authority and trust to work-from-home.
Embarked and incorporated Engage Rocket, an online appraisal system that provides 360-degree feedback comprising self-appraisals, peer and managerial reviews, facilitating comprehensive and holistic feedback anonymously. Since its implementation, it has helped to improve performance management. This also acts as a personal action plan for employees to take charge of their growth.
The above and beyond shows the commitment APRW has towards the MOU with NTUC U SME, in the implementation of fair recruitment and employment practices, and to maintain a work environment that is safe from harassment with proper grievance handling procedures. This collaboration will enable APRW to expand the staff's capabilities and open doors to wonderful staff opportunities and knowledge-sharing around career developments and best practices. For more information on APRW and career opportunities, please visit www.aprw.asia.
About APRW
APRW (formerly known as Asia PR Werkz) is one of Singapore's earliest and largest independent integrated communications agencies focusing on public relations and digital marketing. Since 1996, the firm has grown exponentially and built a strong portfolio of clients across diverse areas like government, public affairs, consumer goods and services, education, hospitality, travel and tourism, startups, charities and non-profit, among many others. The agency is uniquely led by a team of owners-directors who combine keen business acumen with a wealth of experience to design and deliver bespoke communications solutions and successful marketing campaigns for its clients across Asia Pacific. APRW is also an award-winning agency, clinching the title of "Agency of the Year" for Marketing Magazine's regional PR Awards 2019. APRW is a member of global communications platform, IPREX, acting as the sole representative for it in Southeast Asia. To know more, do visit www.aprw.asia